Infographic showcases highlights from the 2016 report
It's good news in the real estate market, according to the latest National Association of Realtors 2016 Profile of Home Buyers and Sellers.
First-time homebuyers are re-emerging. Getting a mortgage has become easier with less money required for down payments. Homes are selling faster than they have in the past few years. And while technology has changed the way people shop for and sell homes, the role of the real estate agent remains as strong as ever.
Here's a more in-depth look at these results.*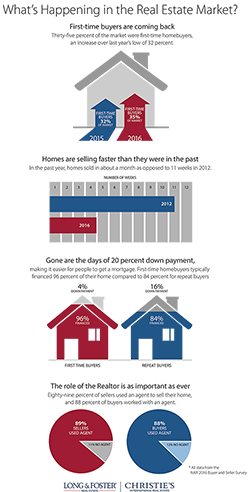 *All data from the NAR 2016 Buyer and Seller Survey.