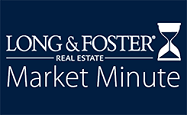 The Winchester region enjoyed a boost in home sales in February, according to the Long & Foster Real Estate Market Minute Report. Warren County saw an astounding 111% increase, followed by Winchester City with a 53% incline.
Median home sale prices also saw increases, with Shenandoah County displaying a 31% rise and Frederick County having the smallest increase with a 4% rise. Inventory declined throughout the region with Warren County seeing a 23% decrease.
The Long & Foster Real Estate Market Minute report for the region includes Frederick, Shenandoah and Warren counties, and the City of Winchester. 

"For the most part you're looking at moderate price appreciation and continuing inventory challenges," said Larry "Boomer" Foster, president of Long & Foster Real Estate. While inventory continues to shrink there is still plenty of demand in most price-points.
The market is being affected in various ways currently due to world events, such as the coronavirus and the stock market fluctuations. However, Foster believes it is affecting the real estate market positively. "Investors are going to get their money out of equities and bonds and put it into real estate because that's an appreciating asset," he explained.
The main thing Foster thinks may be affected is consumer confidence. As of February, consumer confidence numbers were the highest in years, however current events may cause them to drop. There is no fear of a housing crisis though since home prices will continue to appreciate over time. In a normal expanding market, median home prices are expected to go up by 5% per year, in a recessionary market home prices still appreciate by 4%. It's a tangible asset, unlike stocks and bonds, so it can provide consumers with multiple lines of revenue, from potential rent income to tax advantages.
To learn more about your local market conditions, visit Long & Foster's Market Insights. You can also learn more about Long & Foster and find an agent at LongandFoster.com.