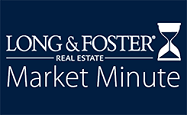 Median sale prices increased while inventory declined in the Delaware Valley/Lehigh Valley in September, according to the Long & Foster Real Estate Market Minute Report. In Gloucester County, the median sales price rose 15% followed by an 11% rise in Camden County.
The number of units sold was mixed across the region with Burlington County experiencing the largest increase of 9%. Double-digit declines in active inventory continued throughout the region compared to September 2018. The inventory dips ranged from 24% in Mercer County to 30% in Gloucester County.
The Long & Foster Real Estate Market Minute report for the Delaware Valley/Lehigh Valley region includes Burlington, Camden, Gloucester and Mercer counties.
"In general, September was a great month for real estate sales," said Gary Scott, president of Long & Foster Real Estate. "While unit sales were up in many places, it's also a double-edged sword because more sales means declines in active inventory."
Interest rates remain historically low, which is creating a great opportunity for many people to buy a home or refinance. "Finding an excellent real estate agent and mortgage consultant is key to helping you work through your options if you're considering buying or refinancing," Scott said. "Anyone considering a refinance should ask themselves a few questions first, such as, how long you plan to live in the property, how much will the refi cost, and is refinancing affordable."
Scott also had some advice for first-time homebuyers. "Make sure you have a mortgage pre-approval, a great agent with experience in the neighborhood where you want to live, visit homes as soon as they go on the market, and be ready to make a quick decision," Scott said. "If you really want the house and it's in a lower price bracket, submit a strong offer. Trying to negotiate could put you at risk of losing the home to another buyer with a stronger offer."
To learn more about your local market conditions, visit Long & Foster's Market Insights. You can also learn more about Long & Foster and find an agent at LongandFoster.com.