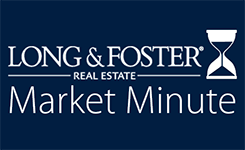 In July, median sale prices rose throughout most of the Northern Virginia region, according to the Long & Foster Real Estate Market Minute Report. The number of homes sold also increased throughout most of the region and homes sold quickly, in 24 days or less.
The Long & Foster Real Estate Market Minute report for Northern Virginia includes the city of Alexandria, and Arlington, Fairfax, Loudoun and Prince William counties.
With reports of inventory gradually coming back and bidding wars becoming slightly less common, we asked Larry "Boomer" Foster, president of Long & Foster Real Estate, what buyers and sellers should expect.
"Real estate is hyper-local, and we are coming off of all-time lows in inventory that have been decreasing for four to five years," said Foster. "Only around the D.C. area have we seen favorable inventory changes, with the most significant influx of homes coming on the market in Northern Virginia." He added that although median sale prices have increased by an average of 20% over the last year in our market, 30-year fixed rates are still under 3%. Even with this appreciation, consumers can buy homes with these low interest rates, since they buy payment, rather than price.
For sellers, there will have to be a change of mindset. "If a house showed well and was in decent shape, we saw up to 10 offers and a waiving of contingencies. This pushed list prices up – sometimes dramatically – which is very abnormal," Foster said. "As we get back into a normalized market, we will again see a home get a few offers, but nothing like we just saw."
Foster mentioned that appraisal, financing, and home inspection contingencies are starting to come back, which is healthy. These actions provide more protection for buyers but does not disadvantage the seller. "As far as staging and house prep, putting elbow grease into your home is still necessary," Foster said. "Buyers are getting more finicky; they used to have a vision, but now everyone wants move-in ready. They don't have the time nor capital to invest in renovations and want to move in and start living."
To learn more about your local market conditions, visit Long & Foster's Market Insights. You can also learn more about Long & Foster and find an agent at LongandFoster.com.