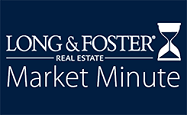 Active inventory increased in October in part of the South Jersey Shore, according to the Long & Foster Real Estate Market Minute Report. Atlantic County exhibited a 6% increase in homes available for sale, while Cape May County experienced a 10% decline.
Median sale prices were up by 9% in both Atlantic and Cape May Counties, while year-over-year units sold declined by 6% in Cape May County and by 22% in Atlantic County.
The Long & Foster Real Estate Market Minute report for the South Jersey Shore region includes Atlantic and Cape May counties.

"Although there is no relief in sight for our inventory challenges, October was a solid sales month for Long & Foster," said Gary Scott, president of Long & Foster Real Estate. "November has started off solid and we may not experience traditional seasonality going into the holidays, since all other factors are boding so well – consumer confidence remains strong, interest rates are low, and homes are appreciating at a healthy pace." Scott added that buyers and sellers in November and December are typically more serious buyers and sellers.
Scott commented buyers want a home that is move-in ready, in the condition, design and layout they want. "Today, convenience is an important piece of people's world, and they don't want to go through the process of converting a home into what they want," said Scott. "The reality is a lot of homes have what buyers desire, but the pricing of those homes creates a disconnect."
For sellers, Scott advised that even though we have inventory challenges, it's best to make sure your home is the preeminent choice. "If your real estate professional recommends anything, such as declutter or stage your home, I'd advise you to do it." He added that it's important to price your home right. "Pay attention to prices of homes that have sold rather than the list price," said Scott. "The only number that really matters is the number the buyer and seller agree to."
Recently, the National Association of Realtors passed a rule to ban pocket listings – meaning that once a home has been marketed to the public, it needs to go onto a multiple listing service within one business day. The ruling allows consumers to see all homes available for sale and expose properties to a wider range of potential buyers. Scott believes the ruling is in the consumer's best interest. "If I'm a buyer, I want to know everything that is on the market and as a seller I want to expose my property to as many people as possible," Scott said.
To learn more about your local market conditions, visit Long & Foster's Market Insights. You can also learn more about Long & Foster and find an agent at LongandFoster.com.