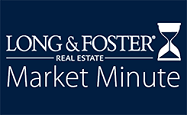 Median sale prices increased in the Delaware Valley/Lehigh Valley real estate market in February, according to the Long & Foster Real Estate Market Minute report. In Camden County, the median sale price rose by 19 percent, while Burlington County saw an increase of 8 percent. The number of homes sold decreased in the region with the exception of Gloucester County, which saw a 1 percent increase. Active inventory declined throughout the region, with Camden County seeing the sharpest decline at 21 percent. 
The Long & Foster Real Estate Market Minute report for the Delaware Valley/Lehigh Valley region includes Burlington, Camden, Gloucester and Mercer counties. 



In recent weeks, industry headlines have suggested that a housing bubble may be looming in the future, but Long & Foster Real Estate President Gary Scott doesn't believe that's the case.  
"Our current real estate market looks nothing like it did over a decade ago when we experienced a real estate bubble," Scott said. "In 2008, we had huge price appreciation, no issues with inventory, higher interest rates and everybody could get a loan due to lax regulations."  
"For the last few years now we've had inventory challenges, including in the Delaware Valley/Lehigh Valley region, but the fact that rates have dipped again to the lowest they've been in a while, bodes well for the market," Scott said. "There are those who say inventory is easing, but we try not to generalize since the numbers vary according to market and type of home."  
When asked what people should keep in mind when looking for an agent, Scott noted that what most consumers really look for today is results. "It's not necessarily that the agent is a top producer, it's about their results," he said. "You want their resume in terms of getting the job done better than the market gets the job done."  
Scott said consumers should ask about certain key factors like the agent's track record for average number of days on the market, the percentage of list to sale price and what percent of their listings sell without a price change. "It's not necessarily about how much business the agent does, it's about how well they do it," Scott said.  
Scott added that he is optimistic about the real estate market outlook. "People feel pretty good about the market," Scott said. "Interest rates are down and consumer confidence is high – and both these factors continue to be our friend." 
To learn more about your local market conditions, visit Long & Foster's Market Insights. You can also learn more about Long & Foster and find an agent at LongandFoster.com.