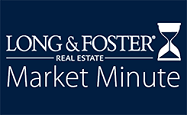 CHANTILLY, Va., Jan. 23, 2018 – Nearly the entire Richmond region real estate market saw median sale prices of homes fall last month. Henrico County was the exception with a 2 percent increase, according to the Long & Foster Real Estate Market Minute report. Homes sales also decreased in the area with Hanover County showing a sharp decline at 38 percent. Active inventory continued to decrease throughout the region and homes spent between one to two months on the market on average.  
The Long & Foster Real Estate Market Minute report for the Richmond region includes Chesterfield, Henrico, Goochland and Hanover counties, and the city of Richmond.  
"We are seeing again, in some markets, a little bit of relief on the inventory," said Gary Scott, president of Long & Foster Real Estate. "We are also seeing a decrease in interest rates, which was not predicted. I believe the first quarter is going to be really robust for three reasons – the spring market, which traditionally begins on January 15, the reduction in interest rates and price depreciation in some markets." 
Although the market data looks much the same from one month to the next, that doesn't mean the same thing is happening in each market, Scott said. Local employment, for example could impact one market but not the others around it.  
"The important thing to remember is that real estate is hyperlocal," said Scott.  "Consumers have to be cautious about reading a singular headline and thinking, 'It's about me.' There are so many unique factors that you've got to take into account regarding each area's real estate market, which is why it's important to work with a real estate professional like those at Long & Foster Real Estate."  
As of now, it's hard to know how the government shutdown will affect the real estate market. Scott said while it isn't having large impacts yet, it's still on his radar.  
"Real estate is a lag business – meaning we won't really know what January looks like until March, so it's too early to tell, but something we are keeping a watchful eye on," Scott said. 
To learn more about your local market conditions, visit Long & Foster's Market Insights. You can also learn more about Long & Foster and find an agent at LongandFoster.com.