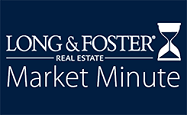 An increase in median sales price and units sold was experienced in much of the Richmond region last month, according to the Long & Foster Real Estate Market Minute Report. Richmond City exhibited the largest gain with a 15% rise in median sale price, while Goochland County was the only area that experienced a downturn, with a 4% decline.
Homes continued to sell at a steady pace throughout the Richmond region in February with the exception of Goochland County which experienced an 11% decline.
The Long & Foster Real Estate Market Minute report for the Richmond region includes Chesterfield, Henrico, Goochland and Hanover counties, and the city of Richmond.  

"Like many people in the country, we've been actively monitoring the developments around the coronavirus," said Gary Scott, president of Long & Foster Real Estate. "It's a constantly changing situation and although the long-term impact is not yet known, we do know some short-term opportunities have arisen for buyers and sellers."
Mortgage interest rates are now at an all-time low – almost 1% lower than they were a year ago, which can increase a consumer's buying power significantly. "While inventory continues to remain a significant challenge, our sales units and sales volume are up significantly during the first two months of this year, which we attribute to our low interest rate environment," said Scott.
Scott added that real estate remains a solid investment with proven appreciation over time. "Homes increase in value nearly 5% per year nationwide," said Scott. "In times of stock market downturns, consumers and investors will often put their money into the purchase of real estate as a safe haven from the volatile swings of the stock market."
To learn more about your local market conditions, visit Long & Foster's Market Insights. You can also learn more about Long & Foster and find an agent at LongandFoster.com.