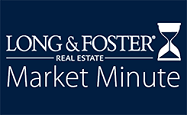 The April data shows an upward trend in median sales prices, and further examination shows the rise can be attributed, in part, to shifts in the makeup of the housing market. This is due to the economic shutdown caused by the pandemic, which disproportionally affected people in the lower income brackets, forcing them to delay or cancel potential real estate transactions. Consequently, this month had fewer than normal sales of homes priced below $300,000, causing the median price to rise. In April 2019, properties sub-$300,000 made up 69% of the market in the Winchester region, but this April, only 67% of homes sold were in that price range.
The number of homes sold took a minor hit, with units sold having declines ranging from 4% in Winchester City to 10% in Warren County. Inventory also decreased across the region, with Shenandoah County having the largest fall of 27%, followed by Frederick County with an 18% decline.
The Long & Foster Real Estate Market Minute report for the region includes Frederick, Shenandoah and Warren counties, and the City of Winchester. 

"The April market was better than we expected," said Larry "Boomer" Foster, president of Long & Foster Real Estate. "The market is showing that demand is still outpacing supply significantly and there's still buyers at most price point and geographic areas."
Though the amount of entry-level homes is still lacking in many areas, single-family homes are still performing much better than townhouses or condos. Foster speculates this is due to people wanting to be more socially distant and wanting to get out of densely populated areas.
For those wondering about how mortgage forbearance is going to affect the market, Foster assures consumers that we are not at risk of the foreclosure issue that happened during the 2008 recession. While mortgage forbearance differs from lender to lender, Foster doesn't believe there's going to be same number of foreclosures or short sales as in the past due to a number of reasons.
One of the great values of Long & Foster is our ability to operate in seven states and the District of Columbia. Each of those jurisdictions have unique stay-in-place provisions and our ability to transact is different state by state, but it gives us a diverse geographic portfolio, which allows us to achieve results that brokerage firms who may be focused on one geographic market cannot.
To learn more about your local market conditions, visit Long & Foster's Market Insights. You can also learn more about Long & Foster and find an agent at LongandFoster.com.