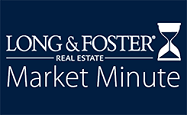 Virginia's Eastern Shore region experienced an increase in units sold in parts of the region, according to Long & Foster Real Estate's Market Minute Report. The number of homes sold in Northampton County rose by 18% and decreased by 23% in Accomack County.
A decrease in median sales price was seen across the region with Accomack County experiencing a 14% drop and Northampton County having with a 23% dip. Year-over-year inventory also declined across the region.
The Long & Foster Real Estate Market Minute report for Virginia's Eastern Shore region includes Accomack and Northampton counties.

The busy spring real estate market that traditionally occurs in April and May has shifted to June and July. While there's been about 48 months of low housing inventory, the challenge has increased due to COVID-19 (coronavirus). With states re-opening, we are seeing pent-up demand for homes everywhere, including vacation properties. "Vacation homes are coming back," said Gary Scott, president of Long & Foster Real Estate. "Consumers are looking for a second home where they can enjoy a new destination and still practice social distancing."
Interest rates have dipped to historic lows, allowing consumers to purchase more home with their money. Scott added that it's never been a better time to be a seller or a buyer. "If you're a buyer, be a buyer, not a shopper," said Scott. "Be committed with a pre-approval and don't hesitate when you see a home you like. If you're a window-shopper, the chances of getting the house you want are minimal."
For sellers, Scott advised that although we're in a low inventory environment, it's still important to do the basics. Decluttering, cleaning and staging your home will help ensure it shows well and gives you every advantage.
To learn more about your local market conditions, visit Long & Foster's Market Insights. You can also learn more about Long & Foster and find an agent at LongandFoster.com.