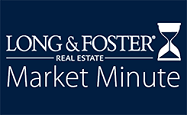 The number of homes sold continued to decline in the greater Philadelphia real estate market last month, while median sale prices rose in most of the region, according to the Long & Foster Real Estate Market Minute report. In Philadelphia County, the median sale prices rose by 9% followed by an 8% increase in Delaware County. The number of homes sold fell throughout the region, with decreases ranging from 3% to 25%. Inventory also took a dip with decreases ranging from 13% to 33%. 
The Long & Foster Real Estate Market Minute report for the Philadelphia region includes Bucks, Chester, Delaware, Montgomery and Philadelphia counties.



"When looking at March's numbers, it was not a good month," said Gary Scott, Long & Foster Real Estate president, "however everybody's in the same place regarding home sales. January was bad, February was good and March was bad." 
While the current numbers do not indicate a positive market Scott remains confident, saying, "I believe April will be off the grid." He remarked that the spring market is historically not set on a certain date and its start is dependent on a myriad of factors, including weather, inventory and interest rates. Though the first three months of the year were not great, Scott predicts that April will yield positive results.  
Based on the market's current economic conditions, such as the low interest rate and high home affordability index, Scott believes that "the spring market is just lagging, and that in April it will become fully activated." 
For sellers looking to get their home on the market, Scott addressed some items that will be important for them to note. "Firstly, buyers are looking to envision themselves in a home so sellers need to go to market in the best way they can. They had better declutter, stage and prepare their homes," he said.  
Sellers also need to be aware of the market conditions of where they're selling and where they're looking to buy. Scott said, "I recommend sellers engage with a real estate professional, as they'll know the market best." Pricing and inventory are incredibly price-point and geographically specific so having a professional will help sellers understand the market better. 
Lastly, sellers need to be aware of potential delays in their selling and moving process. Scott cautioned, "There's no guarantee that the house you want is going to be ready when the house you sell is ready." Sellers need to have a good sense of where they're going and be prepared to have an interim move. 
To learn more about your local market conditions, visit Long & Foster's Market Insights. You can also learn more about Long & Foster and find an agent at LongandFoster.com.