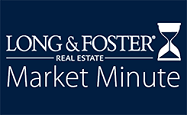 Median sale prices continued their upward climb across most of the Lynchburg region in September, according to Long & Foster Real Estate's Market Minute Report. 
Inventory dropped once again in double digits, while homes sold quickly with days on the market ranging from 16 to 25.  
The Long & Foster Real Estate Market Minute report for the Lynchburg region includes the city of Lynchburg and Amherst, Appomattox, Bedford and Campbell counties.

We asked Gary Scott, president of Long & Foster Real Estate for his comments on what's happening in the fall real estate market. "While inventory remains a challenge, the euphoric pace of buyers and multiple offers has subsided to the degree that it's easier to be a buyer in fall of 2021 than it was in June of 2020," said Scott. "The real estate market has been going at 100 miles an hour, it's now at 80 miles an hour and the speed limit is 65 miles an hour."
Scott mentioned this slight cool down may be due to seasonality, as normally there is a slowdown in the real estate market in the fall. However, he believes homes will continue to appreciate, but at a rate of 3.5% to 4% per year, rather than the double-digit appreciation we've recently experienced.
Inflation has increased, causing the cost of goods to rise. We asked Scott for his thoughts on what impact, if any, this is having on the housing market. "There are a number of factors that consumers take into consideration when buying a home," said Scott. "Inflation may be a consideration for some, while the Delta variant and uncertain global issues, may be a concern for others. But despite it all, homes will continue to appreciate and be a good hedge against inflation."
To learn more about your local market conditions, visit Long & Foster's Market Insights. You can also learn more about Long & Foster and find an agent at LongandFoster.com.