René Fonseca, a sales associate affiliated with Long & Foster Real Estate's McLean, Virginia, office, has been named as one of the Top 25 Latino Realtors in the United States by Latino Leaders Magazine.
This is the inaugural year for the list, which features the most successful and recognized Latino real estate agents or offices in the country. A committee chose this year's honorees from more than 600 Realtors across the United States that were considered. Latino Leaders Magazine is the most recognized national Hispanic business and professional publication.
Fonseca teamed up with his wife, Deborah DeMoss Fonseca, to form The Fonseca Group. Appropriately, their business motto is: Excellence in Real Estate. He has worked in the real estate industry since 2011 in numerous capacities, including working on housing development projects both nationally and internationally. He has also served as a member of the Virginia Real Estate Board and as a civilian member of the state Real Estate Appraiser Board. His military and business background have provided him with strong negotiation, analytical, sales and entrepreneurship skills. Fonseca is a member of the Long & Foster Gold Team of top producers and a member of the Northern Virginia Association of Realtors Multi-Million Dollar Club.
"I am honored to have been named to Latino Leaders Magazine's first ever Top 25 Latino Realtors list," Fonseca said. "My team and I strive continuously to provide each of our clients with 'Excellence,' and being chosen for this honor is a testament to our dedication to our buyers, sellers and investors."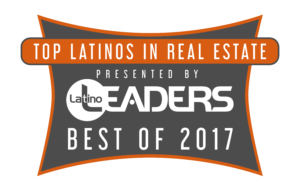 "Long & Foster is proud that Latino Leaders Magazine has recognized René's many accomplishments and his commitment to the industry. He is a true professional in the real estate industry, and his dedication to his buyers and sellers is a testament to his passion for the real estate industry. René always goes beyond the call of duty," said Susan Westbrook, manager of the McLean office.
"René has demonstrated a passion for his business, determination and drive, along with first-class service that has gained him admiration and respect. Clients speak of his professionalism and perseverance, and his integrity and patience," said Larry "Boomer" Foster, president of Long & Foster Real Estate. "Our company has a reputation of honesty, integrity and best-in-class customer service that spans nearly 50 years, and the talent of professionals like René is why we remain the top real estate company in the Mid-Atlantic."
Fonseca is licensed as an agent in Virginia, Washington, D.C., and Maryland. He and Deborah have raised five children in Northern Virginia. In addition to his passion for real estate, Fonseca has served the community in the greater D.C. area for over 10 years as a member of the board of the nation's oldest homeless shelter, Central Union Mission. For many years, he has also been an active volunteer with Operation Christmas Child, a division of Samaritan's Purse.
Prior to his career in real estate, Fonseca retired as a Colonel in the Armed Forces of Honduras, where he served for 28 years. His time with the Armed Forces included serving as chief executive officer of the Armed Forces Pension Fund. He was also a member of the board of trustees for Radford University, and he was president of Ozinga International, which analyzes and evaluates potential international business ventures for Chicago-based Ozinga Bros.
Long & Foster Real Estate is the nation's No. 1 independent real estate brand by sales volume. For more information, visit LongandFoster.com.