Long & Foster Real Estate, the largest family-owned residential real estate company in the United States, is proud to announce that Kathleen Kellett-Ward, a sales agent with the Staunton/Waynesboro office, has received the 2015 Valley Favorites award from the News Virginian.
People across Staunton, Waynesboro, Augusta County, and Nelson County voted for Kellett-Ward to receive this award, earning her the title of 2015 Valley's Favorite Real Estate Agent.
"Long & Foster is proud that the News Virginian has recognized Kathleen's many accomplishments and her commitment to the industry. Kathleen is a true professional in the real estate industry, and her dedication to buyers and sellers alike is a testament to her passion for the real estate industry," said Max Hirtriter, manager of the Staunton/Waynesboro office.
Kellett-Ward has been a professional in the real estate industry for the past 10 years and has been involved in the industry for the past 13 years. In addition to this most recent award, Kellett-Ward has also been recognized as a top selling realtor in the Greater Augusta area of Virginia for several years, and has won other awards such as RealTrends Top Agents in Virginia and various other prestigious recognitions as a top producing realtor. She lives in Waynesboro with her husband, and enjoys spending time with her two children while she is not out helping buyers and sellers with their homes.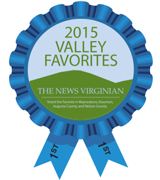 "It's the commitment of agents like Kathleen that has enabled her to earn an honor such as this one, and we're proud to have her as part of the Long & Foster family," said Gary Scott, president of Long & Foster Real Estate. "Our company has a reputation of honesty, integrity and best-in-class customer service that spans 45 years, and the talent of professionals like Kathleen is why we remain the top real estate company in the Mid-Atlantic."
For more information, visit LongandFoster.com.