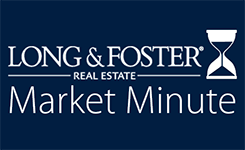 Washington, D.C. saw the number of homes for sale decline 15 percent in December, while buyers snapped up homes and drove sales up 6 percent compared to a year earlier.
Competition for desirable homes meant many properties were bringing more than asking price in several neighborhoods, and homes were selling in as few as 16 days. The Long & Foster Market Minute report provides insight on data for 15 areas within Washington, D.C.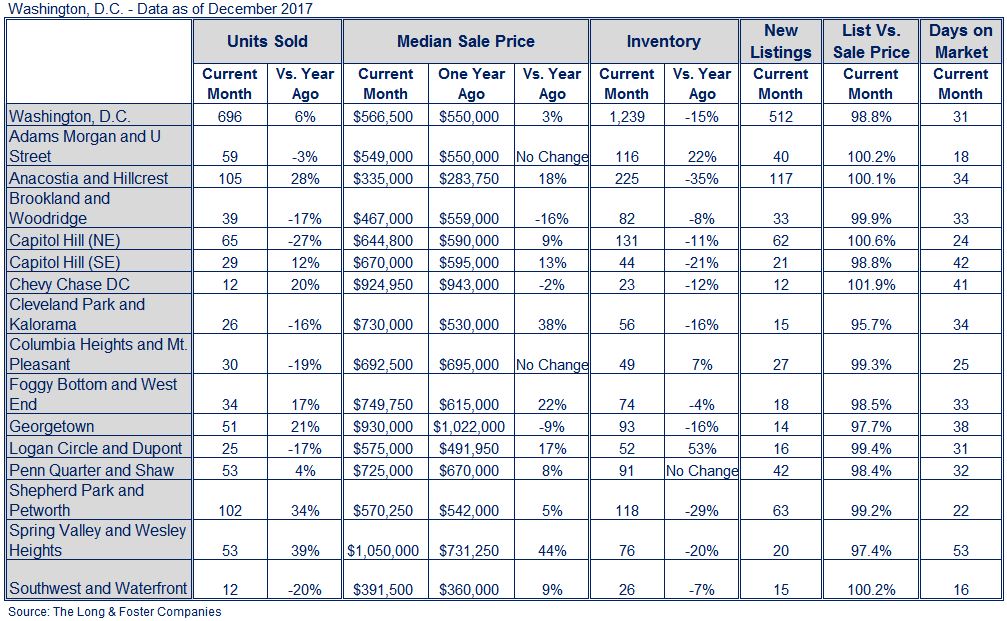 Spring Valley and Wesley Heights had the highest median price, at $1.05 million, up 44 percent from a year earlier. The most affordable homes were in Southwest and Waterfront, with a median price of $391,500.
There was a 1.8-month supply of homes in the district in December, down from a supply of 2.2 months a year earlier. It's generally considered a seller's market when there's less than a 6-month supply of available homes.
The inventory conundrum will likely continue through 2018, said Larry "Boomer" Foster, president of Long & Foster Real Estate. Builders are not keeping up with demand, and owners of existing homes are choosing not to move, even though market conditions favor sellers.
Although interest rates are still at historic lows, homeowners may already have refinanced their mortgages at lower rates they don't want to give up. Home values are at historic highs, but a seller would still need to find another home.
"I know I'm going to get top value for my house if I put it on the market, but where am I going to live if my house goes under contract?" Foster said. "That's a tough place to be."
Current economic conditions, such as low unemployment and rising incomes, could mean more qualified buyers will be entering the market this year, just as the spring selling season is getting underway. Foster said mortgage borrowers will continue to find interest rates that are relatively low, and home prices should moderately appreciate. Those who plan to sell in the next few months should begin getting their homes ready for market.
The market requires real estate agents to be extra creative and resourceful when helping their clients, whether buying or selling, Foster said. Agents representing sellers can write into a contract a clause that says an offer will be accepted contingent on the seller securing another property, Foster said. And those on the purchasing side could work with their clients' wish lists to target specific homes where agents could approach owners and offer to bring a qualified buyer.
Updated homes that are appropriately priced are selling quickly, often with multiple offers, but fixer-uppers and those with tired kitchens and bathrooms are sitting longer on the market, Foster said. Agents might need to convince clients to take another look at those listings and consider a discounted house – even if it means more work.
"You can try to change the expectations of your buyers," Foster said. "If they're set on one location, they might not be able to get the house that shows perfectly and is updated in all the ways they want. Maybe they can do the updates themselves and earn equity in the home that way."
The Long & Foster Market Minute is an overview of market statistics based on residential real estate transactions for more than 500 local areas and neighborhoods and over 100 counties in eight states. The easy-to-read, easy-to-share reports include information about each area's units sold, active inventory, median sale prices, list to sold price ratio, days on market and more.
Information included in this report is based on data supplied by Metropolitan Regional Information System and its member associations of Realtors, which are not responsible for its accuracy. The reports include residential real estate transactions within specific geographic regions, not just Long & Foster sales, and they do not reflect all activity in the marketplace. Information contained in this report is deemed reliable but not guaranteed, should be independently verified, and does not constitute an opinion of MRIS or Long & Foster Real Estate.