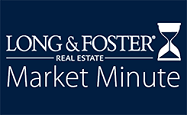 The number of homes sold declined by 5 percent in Washington, D.C., in September, while median sale prices increased by 3 percent, according to Long & Foster Real Estate's Market Minute report.
Many neighborhoods within the city outperformed others, including Southwest and Waterfront, where the number of homes sold rose by 36 percent and the median sale price increased by 46 percent. In the Cleveland Park and Kalorama neighborhood, the median sale price jumped by 114 percent, and in the Chevy Chase DC neighborhood it increased by 48 percent.
The Long & Foster Real Estate Market Minute report provides data for 15 neighborhood areas within Washington, D.C.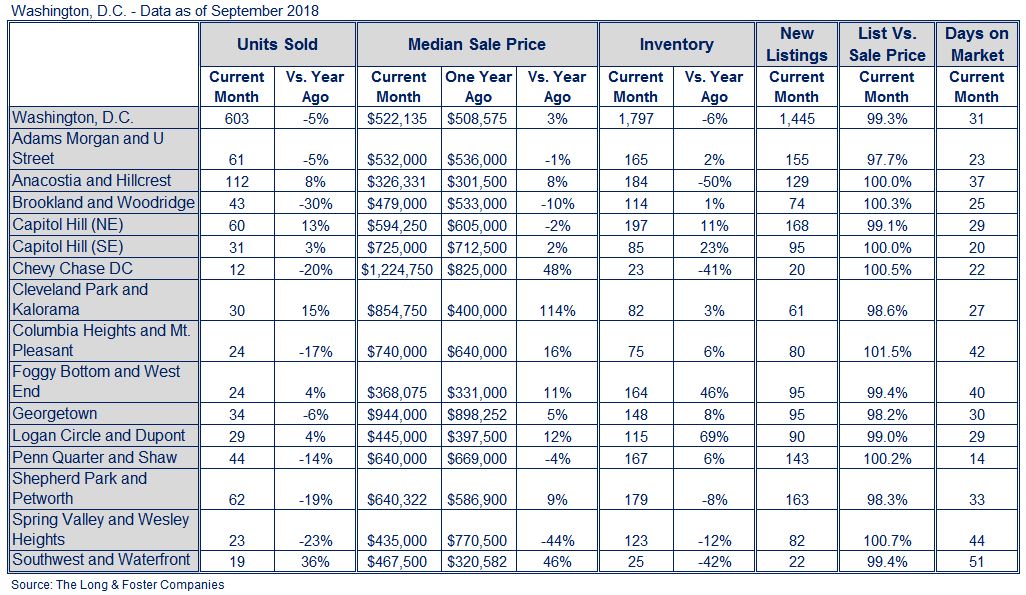 Active inventory in the District declined by 6 percent overall in September, but 10 individual neighborhoods experienced increases. That includes a 69 percent increase in Logan Circle and Dupont, a 46 percent increase in Foggy Bottom and West end, and a 23 percent increase in Capitol Hill (SE). Homes continued to sell quickly in the city with an average of 31 days on market.
Lack of homes for sale has depressed the number of properties sold month after month, and that was particularly pronounced in September, said Larry "Boomer" Foster, president of Long & Foster Real Estate. Going forward, prices will likely climb beyond the reach of more buyers as mortgage interest rates rise toward the 5 percent mark and wage growth fails to keep up with current cost trends.
Five percent interest rates are still historically low, but consumers over the past few years grew accustomed to much lower rates, and there's a limit to how much money most people can budget for housing per month, if wages increases aren't keeping up, Foster said.
"We are getting to the point where we are going to have affordability challenges," Foster said. "These trends are hyper-local, and buyers need to engage the services of a local Long & Foster agent to walk them through what's happening in their own backyard."
The numbers tell a broad story of a market that has seen limited supply consumed by demand, and that is now eroding the number of units sold, Foster said. High demand and low supply could mean higher home prices, but in this case, consumers don't have more money to spend, especially with rising interest rates.
"Owning a home is still the best way to build wealth, but the longer people wait, the more it's going to cost them," Foster said. "If you are in the entry-level price point, or one level up, there isn't much to buy."
The Long & Foster Market Minute is an overview of market statistics based on residential real estate transactions for more than 500 local areas and neighborhoods and over 100 counties in eight states. The easy-to-read, easy-to-share reports include information about each area's units sold, active inventory, median sale prices, list to sold price ratio, days on market and more.
Information included in this report is based on data supplied by Metropolitan Regional Information System and its member associations of Realtors, which are not responsible for its accuracy. The reports include residential real estate transactions within specific geographic regions, not just Long & Foster sales, and they do not reflect all activity in the marketplace. Information contained in this report is deemed reliable but not guaranteed, should be independently verified, and does not constitute an opinion of MRIS or Long & Foster Real Estate.