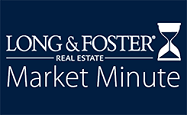 Home sale prices took an upward hike throughout most of the Fredericksburg region in November, according to the latest Long & Foster Real Estate Market Minute Report. Aside from Culpeper County, which demonstrated a 3% decline, the region had increases ranging from 19% in Caroline County to 2% in Stafford County.  
Number of homes sold varied throughout the region, with Caroline County displaying a 33% increase, while Stafford County had a 16% decline. Inventory dropped down in most of the region, with the exception of Fredericksburg City, which had a 20% rise. While the rest of the region had declines spanning a 33% fall in Stafford County to a 22% decrease in Spotsylvania County.   
Long & Foster Real Estate's Market Minute report for the Fredericksburg region includes Fredericksburg City and Spotsylvania, Stafford, Culpeper and Caroline counties. 

"While inventory continued to shrink in Fredericksburg, the median sale prices are only appreciating at low– to mid–single digits, which is healthy," said Larry "Boomer" Foster, Long & Foster's real estate president. This indicates that there's no fear of a housing bubble since prices are not inflating dramatically, despite drastically low inventory. 
Foster pointed out that the spring market is approaching and for those who are looking to list their home, now is the time to start preparing for it. "It's not too early to start planning because people are going to have to do some work on their house to get it ready for market," Foster mentioned. Despite most people's notions, the spring market starts in January before ramping up in February and March. For sellers looking to list their home, the first thing they need to do is consult a Long & Foster agent for advice on what to renovate and how to stage.  
With 2020 just around the corner, Foster provided some predictions on what the new year holds. He stated that it will look similar to 2019 from an inventory and interest rates standpoint. Due to the instability in the world economy, unless something major were to occur, it is unlikely for the 30-year fixed rates to change a great deal. They're expected to stay at or around 4%, which is still historically low. The domestic economy is doing well though, with consumer confidence high and unemployment low, so the chance of a recession is slim. 
To learn more about your local market conditions, visit Long & Foster's Market Insights. You can also learn more about Long & Foster and find an agent at LongandFoster.com.