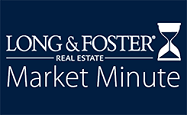 Parts of the Fredericksburg real estate market showed an upward trend in median sale prices throughout the region last month, according to the latest Long & Foster Real Estate Market Minute report. Both Caroline and Culpeper County displayed a 9 percent increase, while Fredericksburg City and Stafford County decreased by 9 percent and 7 percent, respectively. Units sold decreased throughout the region with the exception of Fredericksburg City, which saw a 24 percent increase.  
Long & Foster Real Estate's Market Minute report for the Fredericksburg region includes Fredericksburg City and Spotsylvania, Stafford, Culpeper and Caroline counties. 

"The market is actually pretty strong right now. It depends on who you ask and it's really hyperlocal, but February's numbers are not surprising for Fredericksburg," says Larry "Boomer" Foster, president of Long & Foster Real Estate. 
Foster discussed why we're not currently in a housing bubble, stating that what happened back in 2005 was very different. "We had a regulatory environment around mortgages that was so loose anyone could get a mortgage regardless of their ability to pay it back," he said. Other factors that led to the bubble were the double-digit appreciation and the incredibly low home affordability index. 
Our market is really strong right now with mid-to-low single digits in appreciation and a home affordability index of around 150, as opposed to 2005's index of 85. Unless something crazy were to happen in the world economy, Foster feels comfortable that we are not moving toward a housing bubble. 
For current homebuyers, Foster said many people are not always aware of the myriad of options available for financing. "The biggest deterrent is most people don't think they have enough money to put down, believing they need a down payment of 20 percent of a home's price," he said 
Foster believes that there will still be some frustrations from the buy-side since, "at most price points you're going to be in a competitive bid situation." 
He recommends that consumers have correct expectations from the beginning. "You need to come in not expecting to take the list price and negotiate a huge amount off of it, but come in with a really competitive offer backed by a strong reputable lender," he said. "Put yourself in a position to actually do that otherwise you'll be putting offers on a number of different homes before you ultimately find one that you want to live in." 
To learn more about your local market conditions, visit Long & Foster's Market Insights. You can also learn more about Long & Foster and find an agent at LongandFoster.com.