Fonville Morisey Realty has teamed up with the Food Bank of Central and Eastern North Carolina to ensure no one goes hungry in our community. The Food Bank, established in 1980, is a nonprofit organization that has provided food for people at risk of hunger in 34 counties for over 35 years. They serve a network of more than 800 partner agencies, such as soup kitchens, food pantries, shelters and programs for children and adults through distribution centers in Durham, Greenville, New Bern, Raleigh, the Sandhills and Wilmington.
Since January 1, 2017, agents and employees from Fonville Morisey have sorted 33,550 pounds of food to feed over 28,000 people in Central and Eastern North Carolina.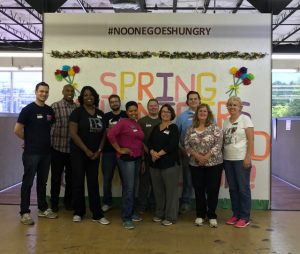 "Fonville Morisey Realty is a proud member of the Triangle community and we are thankful for opportunities to give back," said Rod Eller, senior vice president of Fonville Morisey Realty. "The Food Bank of Central and Eastern North Carolina is working daily to insure those living in their service area are provided essential nutrition. We are grateful to partner with the Food Bank and our associates to meet the needs of our wonderful community."
Fonville Morisey Realty has 11 sales offices, with over 850 associates and employees throughout the Greater Triangle region. Fonville Morisey offers mortgage, insurance, property management, title services, real estate education courses and relocation services through its divisions and partners. For more information about Fonville Morisey Realty, visit www.fmrealty.com.