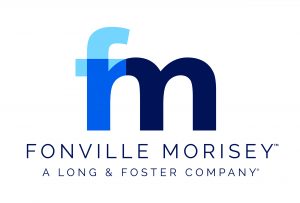 Fonville Morisey Realty, one of the Triangle's most recognized real estate companies, unveiled its new logo recently. The new logo is the most dramatic change to the brand identity in almost 30 years. The updated look is designed to reflect the transformation of the company and its services, along with the evolving needs of consumers.
The new branding bears a modernized and simplified look while honoring the traditions of service that generations of consumers know and trust. The f slightly overlaps the m, which come together to form an r. This is a tribute to the company's founders, Fonville and Morisey, who joined together in 1973 to create Fonville Morisey Realty. The three shades of blue represent the main cities that make up the Triangle – Raleigh, Durham and Chapel Hill – to honor Fonville Morisey's local roots and the community it serves.
"Our clients and their needs continue to change and Fonville Morisey Realty will adapt to meet those needs. Our new look speaks to our commitment to our heritage while demonstrating that we are innovative, forward-thinking and current," said Rod Eller, senior vice president and regional manager.
The new brand identity will be introduced immediately on various digital platforms, including social media, and will continue to rollout across all products and services over the next year. This transition will be an essential step in continuing to support the success of Fonville Morisey's sales associates, employees and affiliates.
Fonville Morisey Realty has 11 sales offices with over 850 associates and employees throughout the Greater Triangle region. Fonville Morisey offers mortgage, insurance, property management, title services, real estate education courses and relocation services through its divisions and partners. For more information about Fonville Morisey Realty, visit www.fmrealty.com.