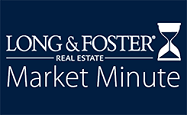 Home sales trended upward in the Charlottesville area in September, according to the Long & Foster Real Estate Market Minute Report. Nelson County witnessed a whopping 92% jump, followed by Fluvanna County with a 40% rise. Median sale prices also increased all over the area, aside from Albemarle County, which saw no year-over-year change.
The Long & Foster Real Estate's Market Minute report for the Charlottesville region includes the City of Charlottesville and Albemarle, Buckingham, Nelson, Fluvanna and Greene counties. 

"Units sold are up dramatically across the region compared to last year due to pent up demand from when things closed down in the spring," said Larry "Boomer" Foster, president of Long & Foster Real Estate. "There's a lot of motivation to buy homes right now due to low interest rates and the fear of missing out on that."
The large number of qualified buyers currently on the market for a home is unusual, since the weeks before a presidential election usually feature a slowdown in the market. However, the uncertainty that typically accompanies an election has been offset this year by historically low rates and strong consumer buying power.
"Consumers should not be expecting a buyer's market at most price points," Foster said, "it's a hot market right now, so people need to be prepared for a multiple offer environment." With demand for a home so high at this moment, potential homebuyers need to act accordingly. There are several ways that buyers can come prepared to the offering table including, making sure they're approved for a mortgage, go in with their strongest offer and have a good real estate agent. The pandemic has also caused a shift in available inventory, with buyers pivoting towards luxury homes in an effort to be more socially distant.
To learn more about your local market conditions, visit Long & Foster's Market Insights. You can also learn more about Long & Foster and find an agent at LongandFoster.com.