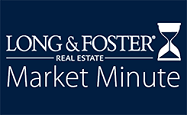 August home sales increased throughout the Northern Virginia region, according to the Long & Foster Real Estate Market Minute Report. Alexandria City witnessed the largest rise with a 32% incline, followed by Arlington and Loudoun Counties, which both ticked upward by 15%. Inventory fell throughout most of the area, though Arlington County and Alexandria City saw surprising inclines with a jump of 39% and 38%, respectively.
The Long & Foster Real Estate Market Minute report for Northern Virginia includes the city of Alexandria, and Arlington, Fairfax, Loudoun and Prince William counties.

"We're seeing huge increases in inventory in some areas of Northern Virginia," said Larry "Boomer" Foster, president of Long & Foster Real Estate. This is due to "people seeing opportunities to sell at the height of the market." Since demand is still outpacing supply, home sellers can put their homes on the market and expect it to be sold within a short time frame and at a good price point.
Historically, the fall real estate market experiences a slowdown, especially during a presidential election year, however Foster anticipates things to be different this time. Since 30-year fixed rates are at an all-time low, consumers have massive buying power and cheap credit, so Foster believes the market will remain strong through September and possibly the end of the year.
Now is an especially good time for people to diversify their real estate portfolio since the stock market is so volatile and interest rates are so low. Real estate is a stable investment since it will not go through massive price fluctuations like the stock market. Real estate also provides four different advantages for the investor: depreciation, appreciation, cash flow and principle reduction, that is not present in other investment opportunities.
To learn more about your local market conditions, visit Long & Foster's Market Insights. You can also learn more about Long & Foster and find an agent at LongandFoster.com.