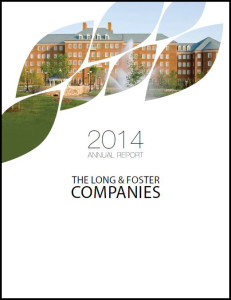 At The Long & Foster Companies, 2014 will be remembered as a year of steady growth that built on the foundation of our business and reinforced our commitment to the vision that our founder, P. Wesley (Wes) Foster, Jr., created for his thriving company. Not only did we grow our business significantly through strategic partnerships and acquisitions, but also we strengthened our family-owned company with a continued focus on our agents and their success. Additionally, we heavily promoted, both within the firm and in the public arena, the value of working with a company like Long & Foster, which is dedicated to honesty, integrity, innovation and good old-fashioned customer service.
You can read more about Long & Foster's growth and our accomplishments during 2014 in the e-book version of our Annual Report.
Long & Foster By the Numbers
Long & Foster Companies total sales volume and equivalents: $49.1 billion
Long & Foster Real Estate: $28.4 billion
Prosperity Home Mortgage*: $2.1 billion
Long & Foster Settlement Services: $10.4 billion
Long & Foster Insurance: $8.2 billion
Long & Foster operates across the Mid-Atlantic and Northeast with over 200 locations in Virginia, Maryland, North Carolina, West Virginia, Delaware, Pennsylvania and New Jersey, as well as Washington, D.C. It is represented by over 11,000 Realtors and more than 1,500 employees in the real estate and financial services industries.