About The Long & Foster Companies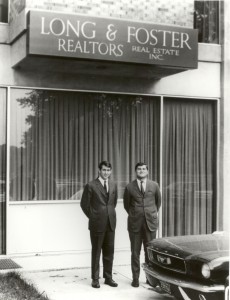 Long & Foster was founded in 1968 by P. Wesley (Wes) Foster, Jr., and Henry Long in a 600-square-foot office in Fairfax, Virginia. The company then comprised Foster, Long and one employee. It provided residential and commercial real estate services to buyers, sellers & renters in the Northern Virginia area, selling about $3 million in volume in the first year.
Since then, Long & Foster has grown to more than 11,000 agents and employees in seven states in the Mid-Atlantic and Northeast, and it is part of The Long & Foster Companies, which also includes Prosperity Home Mortgage, LLC, Long & Foster Insurance, Long & Foster Settlement Services, a corporate relocation services division and one of the largest property management firms in the United States. Long & Foster Real Estate's sales for 2016 were in excess of $31.2 billion with the company helping people buy and sell homes nearly 88,000 times.
In September 2017, The Long & Foster Companies were acquired by HomeServices of America, a Berkshire Hathaway affiliate and the nation's second-largest real estate brokerage and one of the largest providers of integrated real estate services.
You can explore Long & Foster's history and its milestones on this interactive timeline.
Long & Foster Quick Facts
230+ offices
11,000+ real estate agents
Locations across the East Coast, from North Carolina to New Jersey
Headquarters in Chantilly, Virginia
No. 1 independent residential real estate brand in the United States by sales volume
Founded in May 1968 by Wes Foster, who is still with the company today as chairman emeritus
Mission
Founded on a bedrock of integrity and innovation, honesty and good old-fashioned customer service, Long & Foster's corporate mission is to provide the most professional residential real estate services and related financial services—mortgage, title and insurance—available through one convenient and financially stable source. Long & Foster honors its sales associates and enhances their professionalism and commitment to excellence with superior training, sophisticated marketing and state-of-the-art technology, resulting in both unsurpassed service to the consumer and a true feeling of family within the company. Long & Foster is successful because its people are.
Corporate Giving
Since our founding in 1968, Long & Foster has committed to giving back to the community that's given so much to us. It's in this vein that we contribute each year to the U.S. Marine Corps Toys for Tots campaign and host an annual Community Service Day, during which our real estate agents and employees volunteer for and support organizations in their local communities. Throughout the year, we also contribute to a variety of other nonprofit organizations like the American Heart Association, the Board of Visitors for Children's National Health Systems and the Red Cross.
Save
Save
Save